BREAKTHROUGH NEW

Stock Forecasting Software Tells You EXACTLY WHEN to BUY and WHEN to SELL, the Day BEFORE Major Stock and Index Trend Reversals...
Giving You an Unfair Advantage in the Markets And Potentially Unlimited Returns in Your Trading!
LATEST RESEARCH FROM TOP RUSSIAN PROGRAMMER YIELDS NEW ARTIFICIAL INTELLIGENCE STOCK TRADING PROGRAM THAT GIVES YOU THE EDGE!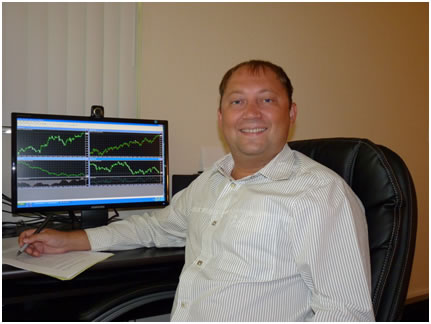 Date: May 11th, 2014
From: Konstantin Grek
Dear Fellow Trader,
How long do you think it will take to become a successful trader?
From the first introductory step, of getting a fundamental grasp of the basics of the stock market, to the point when you are making stable and profitable trades?
For me, it took 10 years of research, testing and information gathering. Ultimately, I created a robust and effective trading software that could do all this hard work for me...
Now I can call myself a 'successful' trader, with the ability to achieve 87% winning trades which has given me an overall increase of 336% in my trading account, over the last 12 months.

And now I have nothing to do but gain the profit.
How Would it Feel to Gain More Consistent Profits in Your Stock Trading With Ease & Confidence?
For those of you who are trying to perfect your own market models, and spending money foolishly on other useless market analysis tools, you need not waste your time any longer.
Firstly, I'd like to introduce myself.
My name is Konstantin Grek, and I started my financial programming software career in Vladivostok in the Far East of Russia, in 2000. Now, I'm a financial programmer and head software engineer in one of the largest financial education companies in Florida .
I was 22 years old, when I graduated from the Russian Far East State Technical University with a Master's degree in Math, Computer Science and Artificial Intelligence Systems.
From that moment, I started building my own software system, based on the most current research in Neural Network Theory.
It turns out, by applying advanced Neural Network Theories, (and after years of hard work and dedication), I was able to develop my own signature software system…that would not only produce stable results with the highest accuracy possible, but would allow me to make, consistently, the most profitable trades I had ever seen!
This Software Will Give You the Security That You Are Placing Your Trades in the RIGHT Trend Direction, So That You Can Maximize Your Profits…On a Regular Basis.
During my career, I've created dozens of trading systems: automatic, self-organized, model-based and many others.
I've also developed a great number of market analysis tools, scanners, custom technical indicators and plenty more complex trading tools.
Unfortunately, I cannot share all of the information and details on these projects as they were developed for financial firms, so I am under non-disclosure agreements.
The truth is, Most of the top Financial Organizations in the World Have Their Own Treasure Chest Full of Valuable Secrets, Especially Those That Make a Lot of Money.
Well, you can.
And it is all wrapped up in my own highly-efficient signature
stock prediction software called…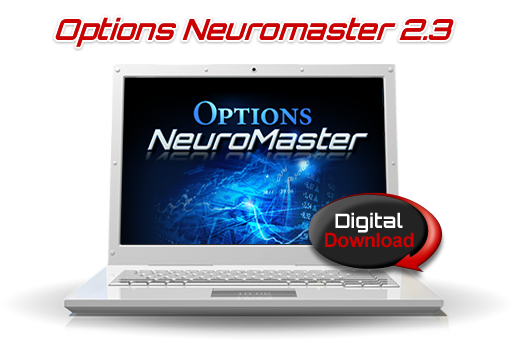 And trust me. This beats all of them (even the previous version).
Stock and Options Trading Has Never Been So Easy And Profitable
My Stock and Options Neuromaster, an advanced charting tool with a predictive core, based on artificial intelligence technology, helps you to make the right decisions on WHEN TO BUY and WHEN TO SELL your favorite stocks.
(Don't worry, you don't need a PHD in Mathematics to understand how it works either).
In just minutes and a few simple steps, this incredibly complex piece of technology (that was designed in a remarkably easy-to-use format), will provide you with the remarkable results of my years of sophisticated research.
Take a look at the user-friendly interface:

Options Neuromaster 2.3
The Options Neuromaster reveals the power of artificial intelligence and non-standard analytical abilities in the difficult yet crucial area of the fluctuations in the stock market by…
A Powerful Combination of Technical Analysis and Neural Network Modeling Designed to Help You Do the Critical Work of Predicting Movements in the Stock Market.
Ability to create your own custom models and generate forecasting within a few clicks
Technical analysis module with many popular technical indicators!
Update of stock quote data through the Internet FREE
Import of stock quote data from CSV and Equis Metastock
User-friendly interface with wizards
Support of all popular versions of Microsoft Windows
Options Neuromaster is Highly-Tailored and Specifically Developed For Both Beginner and Highly Advanced Traders!
And the best part is, that all of these extremely helpful features are designed in an incredibly easy-to-use, user-friendly interface.
Check Out A Short Video Demonstration Below
There is No Need For Manual Deep Technical Analysis, Market Overview or Spending Hours Defining the Correct Trends.
3 Single Clicks Do All the Work For You…Bringing You the Most Accurate and Profitable Trades Than Any Other Stock Forecasting Software on the Market!
Here is a just a snapshot of why the Options Neuromaster can help you become a more effective & successful stock trader.
Easy To Use Neural Network software available. Several clicks give you all of the power of Neural Network Theory to be applied to the unpredictable stock market with great success and accuracy.

Saves you money

- By using a free data-feed, you don't have any additional expenses or new services to purchase. You can run it whenever you choose!

Makes you money

- This software will help you make more money, with less effort, than any other stock forecasting software.

Saves you time

- No need to spend hours on market analysis before placing the order. This software will create all the professional deep market analysis in seconds and also give you the recommendation to BUY, SELL or HOLD or even to stay out of the market all together.
Gives you Confidence in your trading so you can be confident when entering and exiting trades in their current trend direction, just follow the signals generated by the software.
Turns beginner traders into more effective traders and advanced traders into a financial analysts.
There's much more, but you'll just have to see for yourself...
Stop making your trading orders based on suggestions or recommendations of other traders. Build your own professional market analysis system, making you a more self-assured and thriving trader.
Just look at the software's "Current Position Information Tab" to see the forecasting for tomorrow:
The line with "Recommendation For The Next Open" will tell you what to do tomorrow:
To Buy, To Sell or To Hold.
And There is No Reason to Spend Thousands of Dollars on Any Other Neural Network Software That Has a Lower Accuracy Rate and Makes You Less Money (or Even Loses You Money)
Take it from some recent buyers of the Stock and Options Neuromaster…
So far I have been very happy with the results that I have had. If I had used it for the entire time I had the trial and then purchase I would have been up about 14% in the 3 – 4 weeks or so.
---
If you want a neural net program that will generate BUY and SELL signals for stocks, without knowing how the inside guts work, then this is the product for you.
If you don't care about how neural nets work, don't want to deal with the hassle of finding data and making predictions sets, and just want a system to generate BUY and SELL signals with a click of a button, this is the system for you.
---
About a week ago I stumbled across your neat little stock neural net program called, interestingly enough, Stock NeuroMaster. I downloaded it and played around with it during its 14 day trial evaluation and was surprised by how easy it is to use. And I have found it to be extremely useful regarding ETFs, gaining a lot of profit with this software!
---
After using the Options Neuromaster throughout 2011, I realized how invaluable a tool it is. In conjunction with its predictability and accuracy I was able to better chose my options trades. Previously I had a difficult time determining possible directions of a stock, but after I started using your tool, my winning percentage increased based upon the output provided by the Neuromaster. Thanks for making tool available.

I have more confidence when making my trading decisions when using neuromaster and have been more successful in trading. thank you
---
Regarding Options Neuromaster I can say that it has been worth many successful trades in the months in which I have used it. I would not be without it. I am very interested in the new version now available which I expect is better yet. Thanks a million.
---
Hi, Konstantin: Thank you for your ONM service which I have used with excellent results. Simply continue with your service and its future improvements.
---
Konstantin - I look forward to the latest developments. I use the program to "confirm" option reco's by some newsletters I get.It has saved me from getting into some bad reco's lately as well as get into some good ones, Apache (APA) calls made some money last few months
---
Konstantin, I have been using Options Neuromaster 2.0 for several months now and am continually amazed at the accuracy it provides. Keep up the good work.
---
Software is unbelievable for pin pointing trades...

Hi Konstantin, I have been using Options Neuromaster 2.0 to trade AAPL successfully using your model. I have been selling weekly credit spreads depending on the long and short signals of the model with 90% accuracy. I can't wait for the new version.
---
Dear Konstantine, I found Neuromaster 2.0 a very good early alert for profitable trades. The system was easy to use and it yielded great profits. A real good tool to profitable trading. I would highly recommend Neuromaster.
---
Software is very easy to use. Any edge in predicting where the market will go is a great help. Really like the little green and red arrows. Thanks. Definately would like the new version.
---
I have to tell you "KG" since Ive had Neuromaster my entries and exits have been cleaner which has resulted In many more profitable trades over the following months...Translates Into a more than 10 % Increase In profits per month...Thanx so much "KG"
---
I have used Options Neuromaster for over a year and found it to be a very useful tool to help decide when to buy, hold, sell, and be out of the market on any traded equity. You can use it as a confirmation tool, or as a stock picker. Your results will be much better if you can enter short trades as well as long, but you can make a profit either way. Like all analytical tools, it is not correct 100% of the time, and it certainly couldn't predict the News-of-the-day when it came to the European debt crisis, but in all cases where I used the program, there were many more winning trades than losing trades; winning trades on average were always greater than losing trades; and in all cases, the total trade for the year was positive. This is a tool that you use after the market closes for trades to be taken the next day. On the system performance page, you have running gain/loss statistics, as well as a listing of the recommeded trades including dates entered and exited with corresponding price and profit or loss. It is a very easy to use program, and provideds a significant amount of trade data. It basically does your backtesting for you. I recommend its use.
---
Konstantin, Have used the first version (2.0) and love it. I filter all my trades through it as part of my analysis berore buying or selling. This has helped my account substantially. I look forward to more of your very fine work.
---
Kostya, Happy New Year! I have really enjoyed using Neuromaster program the last several months. The System Performance capability helps me to determine which stocks are favorable to trade and even better what I should expect statistically going forward. This has become a very important part of my daily trading routine. Thank you!
---
Hi Konstantin, I have been using Option Neuromaster and Option Neuromaster Pro for over one year now and have found it very useful. I really like the built-in charts and the ability to set my own stops. I often trade futures and found Neuromaster very helpful when trading tracking ETF's for those futures. I really like the batch automation in the Pro version.
---
Hi Konstantin. I have been using Neuromaster 2.0 since its release and the results have been amazing. My trading success has gone through the roof. With the release of the new Options Neuromaster 2.2 , I am looking forward to even greater profits. Anyone who has the chance to get the new version should do so without hesitation. I simply will not trade without it!!

"Options Neuromaster helped me a lot with my trades. Not only Options Neuromaster is easy to use, it also gives clear directions to follow. I can use my Options Neuromaster at any time and it always give me updated information. It is a great program for all traders and investors."
---
"I am continually amazed at how accurate Options Neuromaster is at identifying directional moves with stocks and indices before I see them. Because of that, my confidence in entering trades earlier than I used to has increased, thus increasing my profits."
---
I have been using Neuromaster 2.0 during 2010 with very good results. I use it to follow my basket of stocks for alerting me to entry and exit points.I would recommend it as an excellent tool for swing trading.
---
I have been using Options Neuromaster for a year now. It is a great tool for shortlisting and analyzing possible trades. It is now a regular part of my trading day. The developer of this software understands what trading is all about, and his knowledge of real world usefulness comes through in the Options Neuromaster. Keep up the great work!!

And to make it even MORE powerful, we've added a special built in Options 'Strategy Analyzer' where once you find your stock trading opportunity, you can enter in various options strategies and legs to visually see your risk graph for each strategy.
It's a great way to experiment with different options strategies, and choose the best one for you!
The Options Neuromaster Strategy Analyzer comes with it's own options data-feed so you don't need one, and let's you pull up all the options information you need including bid/ask prices, the Greeks, and also Implied Volatility so you really have everything you need to find and profit from winning stock and options opportunities with Options Neuromaster.

Options Neuromaster 2.3 Strategy Analyzer
When you make a small investment in the Options Neuromaster, you will be leveraging the power of the latest Artificial Intelligence applied to the unpredictable field of the stock market, with SUPERB ACCURACY, ensuring your MAXINUM PROFIT POTENTIAL.
Here are the INCREDIBLE FEATURES you will receive when you purchase the Options Neuromaster in the next 10 minutes:
A.I. stock market forecasting and trading software application with the highest accuracy and profitability, based on the latest research in Neural Network theory developed by Russian scientists.

One-Click trend forecasting for tomorrows market, giving you a clear recommendation of when to BUY, to SELL or to HOLD.

Runs off of a FREE data feed (So there's no monthly fee EVER!)
Our Options NeuroMaster 2.3 software uses a free data feed, so you don't ever have to worry about paying for an expensive monthly data feed provider!

FREE International Markets Data support at no extra cost. Just type in a few simple country codes, and you can pull data from international exchanges as well. Run the Options NeuroMaster on non-U.S. markets, including the FTSE, Nikkei, Hang Seng, CAC, DAX, ASX, SGX and more...

Technical Analysis module for Advanced Traders, including MAVEs, ZigZag, Bollinger Bands, CCI, MACD, Quadrant Lines, RSI and Linear Regression Oscillator.

Detailed Trading Statistics to estimate the efficiency of your trading. Run your system and examine if your model needs to be updated to get you to the highest accuracy and profitability level.

Forecasting Page-with clear recommendation to buy, sell, or hold for tomorrow, and current position profit/loss.

Adjustable Charting-easy chart scrolling, zooming, custom drawing, with printing feature for further analysis.

But before I tell you what your investment is to purchase this powerful new software (don't worry, it is surprisingly affordable)...
I want to share several of the FREE BONUSES that are included with the software:
Bonus #1
Bonus #2

The free 6 month subscription helps you...
Determine new trading opportunities by narrowing down a universe of different stocks in a market end of day scanner.
Pick stocks much more easily that can then be further processed in the Stock Neuromaster 2.0 for more profitability.
And 33 stock screening filters including the most popular moving average crossovers, MACD crossovers, gaps, 52 week highs and lows, Overbought RSI, CCI buys and sells, strong volume gainer and decliner, and many others.
Bonus #3

The free software allows you to...
Find new trading opportunities by finding options with unusual options volume via end of day scanner.
Pick stocks with institutional support by watching where the big buys and sells are happing in the underlying options.
Find potential BIG winners by looking where the elephants leave their footprints in the markets. It's illegal for them to do insider trading, but not illegal for US to look for their unusual trading volume!
That's More Than $1500 in Extra Bonuses...
In Addition To The Software!

Let's recap.
By ordering today, here's what you'll be getting...
Professional software based on my 10 years of complex research in Neural Network Theory and other Artificial Intelligence technologies, which is the most effective, powerful, accurate and profitable stock forecasting software on the market today.
1 year FREE upgrades to newer versions of the software when released "3 clicks" extremely easy-to-use trading system that gives you a clear recommendation of when to BUY, SELL or HOLD any stock you're going to trade.
FREE subscription to a brand new stock scanning software, which makes stock selection much easier and multiplies your trading profit potential when using Stock Neuromaster.
Exceptional support directly from my software development team. They helped create this software, from scratch, and are prepared to answer every single question.
NO Data Fees Ever. Stock Neuromaster and the Market Scanner run off of a free data feed.
You can order right now and be using the software in the next 5 minutes... (Even if it's 3 AM in the morning!)
To your trading success,
Konstantin 'Kostya' Grek
Options NeuroMaster © software creator
Disclaimer - Stock trading has large potential rewards, but also large potential risk. You must be aware of the risks and be willing to accept them in order to invest in the options markets. Don't trade with money you can't afford to lose. This website is neither a solicitation nor an offer to Buy/Sell options. No representation is being made that any account will or is likely to achieve profits or losses similar to those discussed on this website. The past performance of any trading system or methodology is not necessarily indicative of future results.
HYPOTHETICAL OR SIMULATED PERFORMANCE RESULTS HAVE CERTAIN LIMITATIONS. UNLIKE AN ACTUAL PERFORMANCE RECORD, SIMULATED RESULTS DO NOT REPRESENT ACTUAL TRADING. ALSO, SINCE THE TRADES HAVE NOT BEEN EXECUTED, THE RESULTS MAY HAVE UNDER-OR-OVER COMPENSATED FOR THE IMPACT, IF ANY, OF CERTAIN MARKET FACTORS, SUCH AS LACK OF LIQUIDITY. SIMULATED TRADING PROGRAMS IN GENERAL ARE ALSO SUBJECT TO THE FACT THAT THEY ARE DESIGNED WITH THE BENEFIT OF HINDSIGHT. NO REPRESENTATION IS BEING MADE THAT ANY ACCOUNT WILL OR IS LIKELY TO ACHIEVE PROFIT OR LOSSES SIMILAR TO THOSE SHOWN.