Do you trade options or stocks?
If so-you must check our
newest
version of
Options Scanner
software that has been released today! New
Options Scanner 3.0
now is connected to updated FREE data source, and has
up to date
FULL list of
all optionable symbols
traded on 
AMEX
,
NYSE
and
NASDAQ
, combined into one list if you want to scan the
whole symbols universe
, or
separated by sectors
.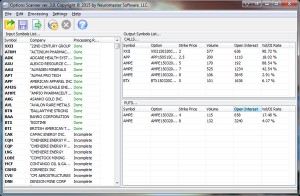 The software allows you to…
Find new trading opportunities by finding options with unusual options volume via end of day scanner.
Pick stocks with institutional support by watching where the big buys and sells are happing in the underlying options.
Find potential BIG winners by looking where the elephants leave their footprints in the markets. It's illegal for them to do insider trading, but not illegal for US to look for their unusual trading volume!