If you didn't check our GREAT tool that makes consistent profit day by day, named "Unusual Volume Options Scanner", it's the LAST chance to do this!
And, i'm proud to announce that this great tool has just become even GREATER!
The new version 3.5 PRO has been released today, with HUGE speed improvement, newest up-to-date optionable symbols universe, more stock summary info, and a lot of other minor fixes and enhancements!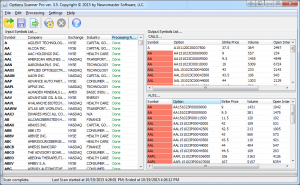 Now, the sweetest part…
If you register this amazing yet simplest to use tool today-i will add our Secret Trading Strategy, how to use the Scanner to gather highly profitable and accurate trades for free! It's another $97 bonus added up to FREE 1 year upgrades, and FREE LIFETIME data feed!
Why don't you test it right away, to figure out how impressively useful the Unusual Options Scanner 3.5 PRO tool is, for EVERY Stock AND Options Trader? It's 100% RISK-FREE, with 30 days moneyback guarantee, so download it TODAY, and find out if it's right for you (I bet it is though!)
$1500 OFF ONE DAY SALE